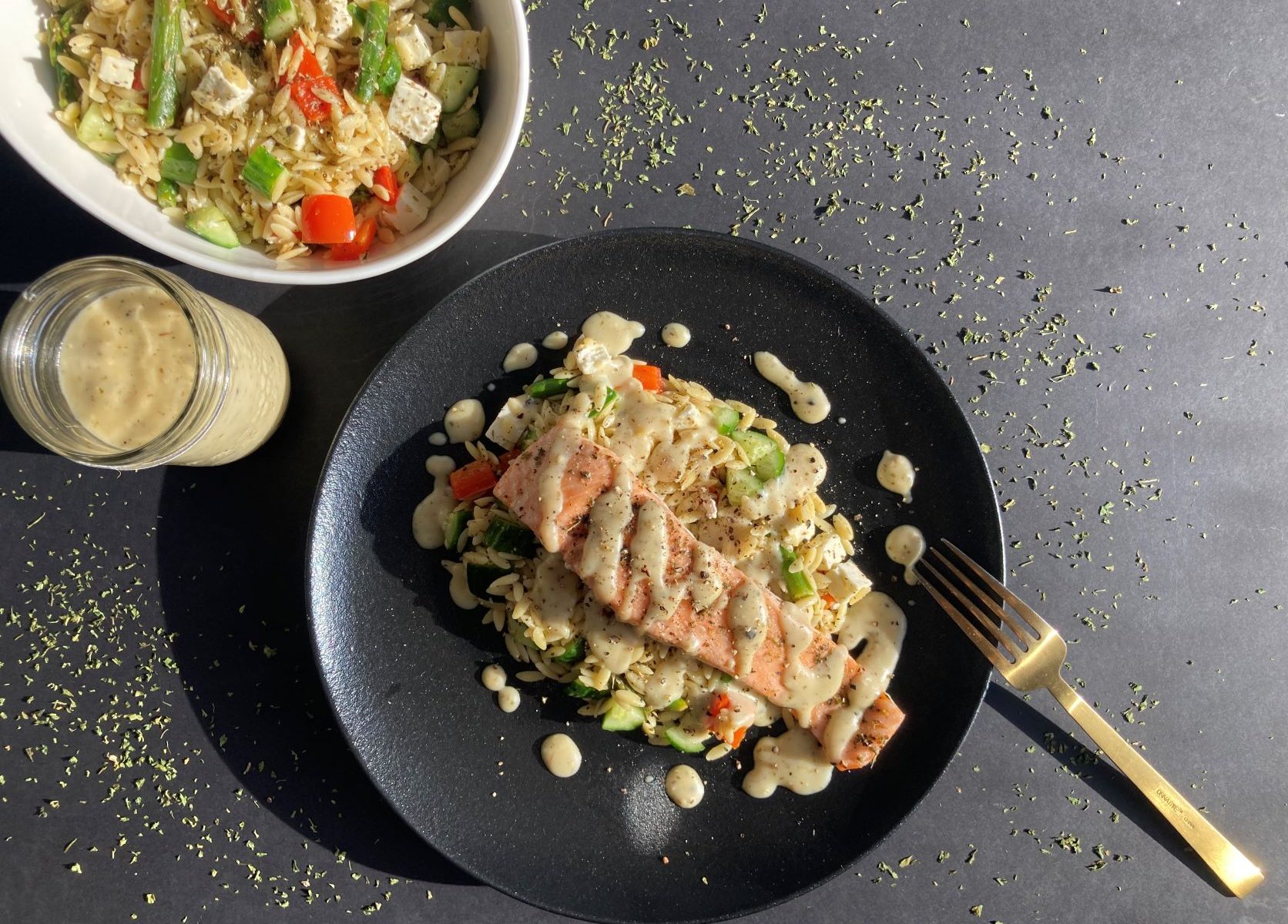 RECIPE: Grilled salmon with creamy garlic sauce served on warm orzo salad
Santé
6 servings – Preparation time: 10 minutes – Cooking time: 20 minutes
Ingredients
1 ¾ cups dry orzo (about 260g)
6 pieces of 120 g (4 oz) fresh or defrosted salmon
1 ½ cups coarsely chopped asparagus (about 20)
1 ½ cups diced bell peppers (about 1 bell pepper)
1 ½ cups diced cucumber (about 1 English cucumber or 4 baby cucumbers)
1 cup feta cheese, diced (about 150g)
4 teaspoons olive oil
1 teaspoon minced garlic
1 ¼ teaspoon garlic salt
1 ½ teaspoon dried oregano
1 teaspoon dried basil
½ teaspoon of thyme
1 ¼ teaspoon garlic salt
Salt and pepper to taste
Garlic sauce
¼ cup unsalted butter
1 tbsp minced garlic (about 5-6 garlic cloves)
2 tablespoons all-purpose flour
½ cup chicken broth
1 cup 2% milk
½ teaspoon garlic powder
½ teaspoon of oregano
¼ teaspoon marjoram
Salt and pepper to taste
Steps
Preheat the oven to 400°F. Line a baking sheet with parchment paper, then place the salmon pieces on it. In a small bowl, mix one teaspoon of oil with ½ teaspoon of oregano and ¼ teaspoon of garlic salt. Brush salmon with mixture, then season with salt and pepper to taste. Bake for 8 to 10 minutes or until salmon is tender or until salmon flakes easily with fork.
Prepare the sauce by starting by melting the butter in a small saucepan over medium heat. Once melted add the garlic and roast for about 2 minutes, then add the flour and stir an additional 2 minutes. Slowly add the milk and broth alternately, making sure to stir well between each addition with a whisk until a slightly thicker texture is obtained. Add the spices.
Meanwhile, cook the orzo in a medium saucepan of boiling water according to package directions until al dente. Reserve with 2 teaspoons of oil to prevent the orzo from sticking. Add 1 tsp dried basil, 1 tsp dried oregano, 1 tsp garlic salt and ½ tsp thyme.
In a skillet, brown the asparagus, peppers with 1 teaspoon of olive oil and garlic for about 5 to 6 minutes over medium heat. To book.
Assemble the orzo salad by mixing the pasta, vegetables and cheese. Serve the salmon on the salad warm and accompanied by the creamy garlic sauce. Enjoy your lunch!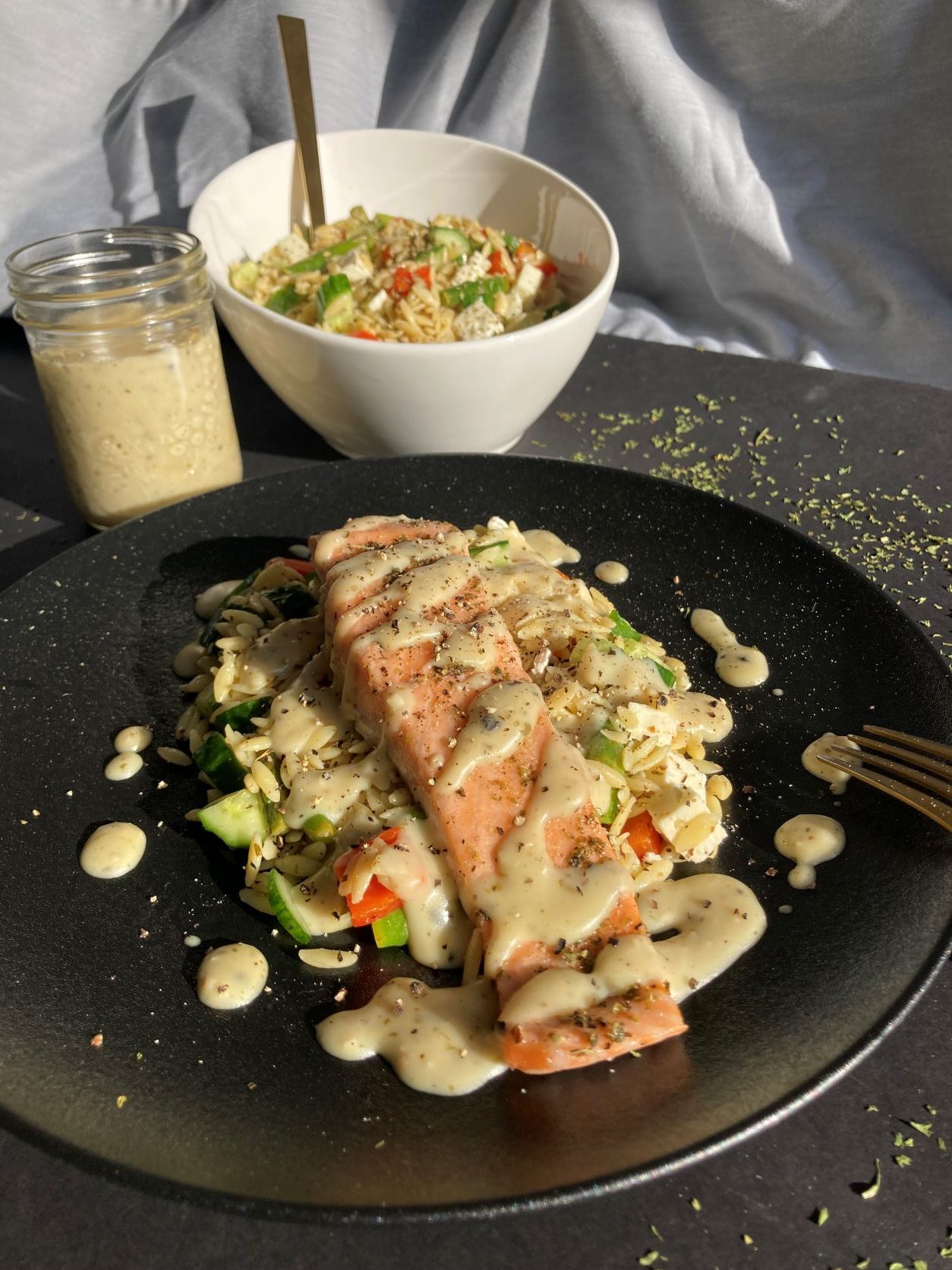 Nutritional values
Calories: 460 calories
Protein: 31g
Carbohydrates: 40g
Lipids: 20g
Tips
If you don't have marjoram, feel free to make the sauce anyway. On the other hand, its addition is a very nice addition to the sauce.
If you want a thicker sauce, don't hesitate to wait longer so that it thickens more or to prepare the sauce in advance in order to reheat it when serving.
Joanie Séguin, Dt. P.
Nutristionnist at AXiO Sport Medicine Clinic
©2023 Centre Multisports in Vaudreuil-Dorion
/