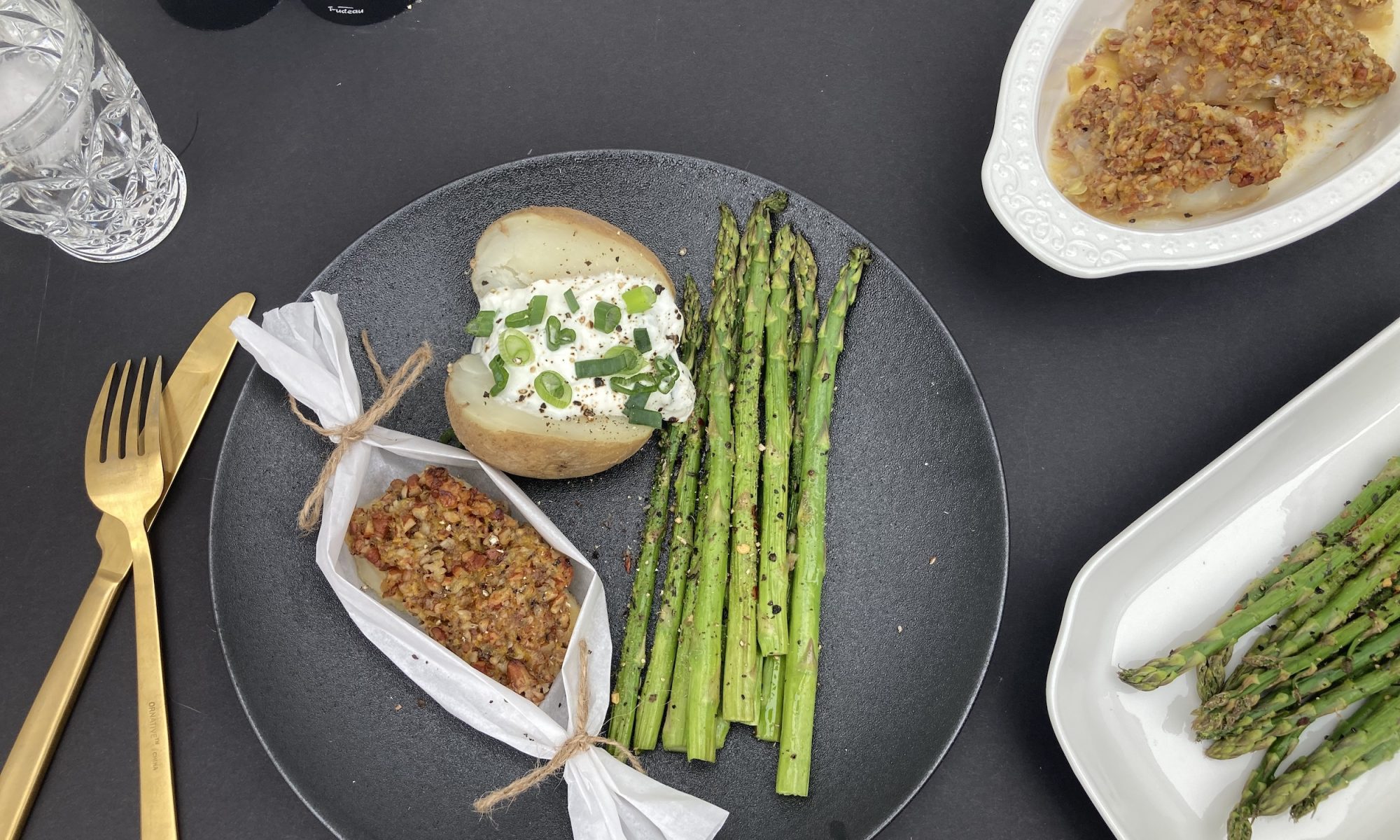 Recipe: Cod with orange, maple syrup and pecans
Santé
4 servings – Preparation time: 5 minutes – Cooking time: 20 minutes
Ingredients
4 cod fillets (about 480 g)
1 medium orange
1/2 cup chopped pecans (about 60 g)
2 table spoons of maple syrup
2 tablespoons butter at room temperature
Salt and pepper
Sides
4 medium potatoes
Asparagus (around 40)
Steps
Preheat the oven to 200°C (400°F), then wrap the potatoes in aluminum foil. Bake 45 to 60 minutes or until tender when pierced with a fork.
*If you are in a hurry, you can cook your potatoes for 5 to 6 minutes in the microwave without aluminum foil, making sure to prick them beforehand several times with a fork to allow the heat to escape. You can then bake them in the oven, wrapped in aluminum foil, for only 15 to 20 minutes.
Zest the orange, then squeeze it to obtain its juice. Then mix the zest, half the orange juice, pecans, maple syrup and butter in a bowl.
Place the cod pieces on a baking sheet lined with parchment paper. Season with salt and pepper, then coat with the pecan mixture to form a crust. Bake for 12 to 15 minutes or until the cod flakes easily with a fork and the crust is golden brown. Broil cooking can be used for 1 to 2 minutes at the end to obtain a crispy crust.
Meanwhile, cut off the bottom part of the asparagus, then place the top part on a baking sheet lined with aluminum foil. Drizzle with oil and spices of your choice. Bake 8-10 minutes.
Serve the cod accompanied by the asparagus, potatoes decorated with the garnishes of your choice and season with an additional drizzle of orange juice if necessary.
Nutrition facts
Calories: 555
Proteins: 32g
Carbohydrates: 66g
Lipids: 22g
Tips
The recipe can very easily be made while camping and cooked directly on the fire in papillotes. Do not hesitate to open the papillotes frequently in order to obtain the desired cooking.
The orange mixture can be prepared in advance, but keep the chopped nuts in a separate container until ready to prepare the meal to obtain the desired crispy effect.
Par : Joanie Séguin, Dt. P.
Nutristionniste, Clinique de médecine sportive AXiO
©2023 Centre Multisports in Vaudreuil-Dorion
/