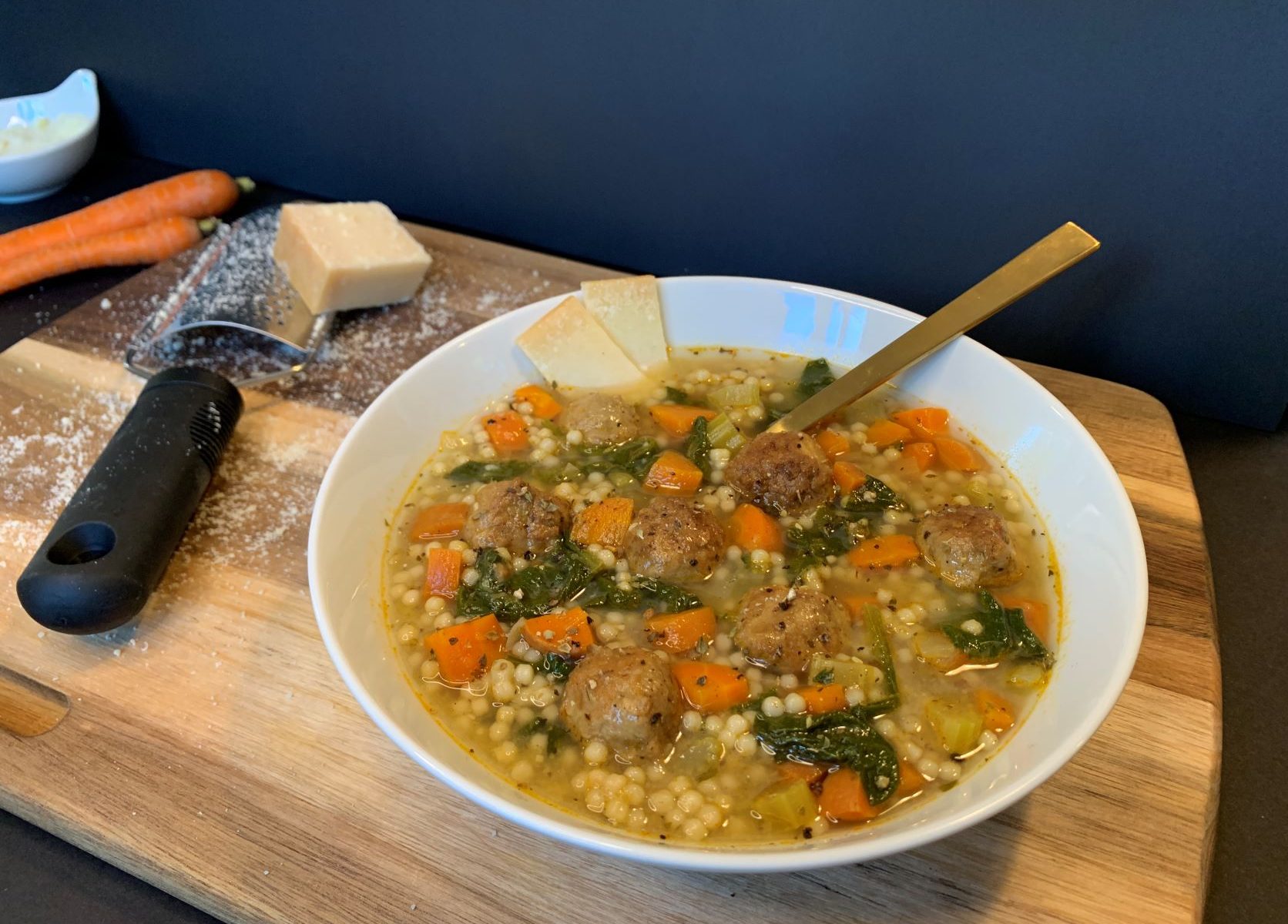 RECIPE: Italian Wedding Soup
Santé
6 servings – Preparation time: 10 minutes – Cooking time: 20 minutes

INGREDIENTS
4 cloves of garlic, finely chopped
1 chopped onion
4 celery stalks, diced
8 medium carrots, diced
1 tablespoon olive oil
600 g beyond meat sausage (vegan; about 6 sausages) or other sausages of your choice
8 cups of chicken broth
1 teaspoon dried oregano
1 teaspoon dried basil
1 teaspoon of pepper
1 cup acini di pepe paste
8 cups spinach
STEPS
In a large saucepan, cook the garlic, onion, celery and carrots in the oil over medium heat until the vegetables are lightly browned. Meanwhile, remove the casings from the sausages and form small balls with the meat (about fifty). Cook the meatballs in a skillet until golden brown or until the internal temperature reaches 71°C (160°F) if meat sausages are used.
Add the broth and spices to the vegetables and bring to a boil. Let simmer for 10 minutes.
Add the pasta and continue cooking for 6 to 7 minutes. Finally, add the spinach and the cooked sausages. Wait until the spinach has reduced in volume and serve.
NUTRITIONAL VALUES
Calories: 412 calories
Protein: 20g
Carbohydrates: 47g
Lipids: 15g
TIPS
If you save the soup for later, the pasta will tend to absorb the liquid. Feel free to add more broth, but wait to add it when you consume the soup to prevent it from being absorbed.
Acini di pepe pasta can be replaced by orzo or pearl couscous.
Joanie Séguin, Dt. P.
Nutristionnist at AXiO Sport Medicine Clinic
©2023 Centre Multisports in Vaudreuil-Dorion
/