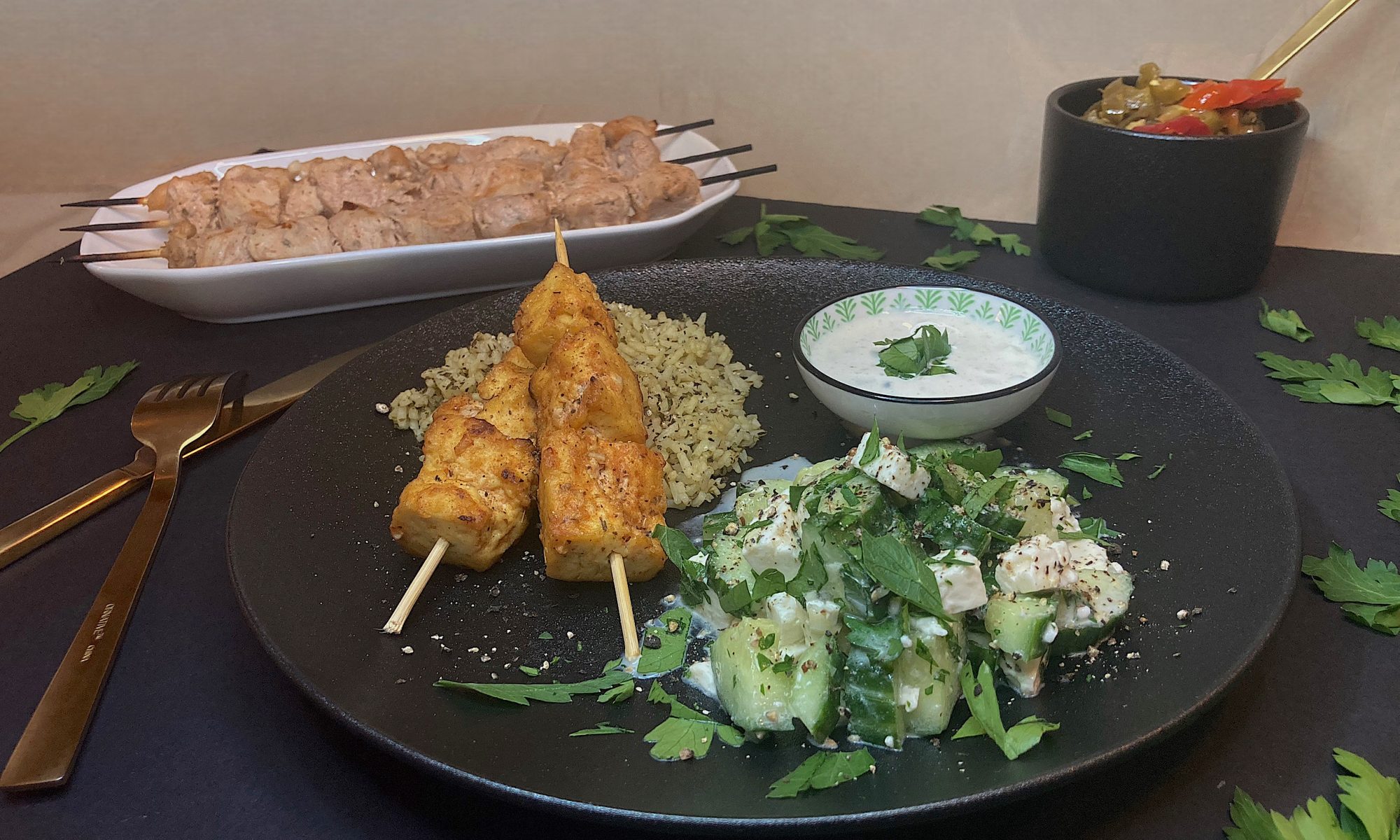 Recipe: Chicken or tofu skewers Shish Taouk
Nouveauté
4-6 servings – Preparation time: 10 minutes – Maceration time: 1 hour – Cooking time: 15 minutes
Ingredients
400g chicken or 454g firm tofu
2 medium cucumbers, diced (or 3 if making the recipe for 6 servings)
200g feta cheese, diced
2 tablespoons coarsely chopped parsley
4-6 servings of rice
Marinade
¾ cup plain Greek yogurt
4 tablespoons fresh lemon juice
1 tablespoon of tomato paste
1 tablespoon olive oil
4 cloves of garlic, finely chopped
½ teaspoon dried oregano
½ teaspoon paprika
¼ teaspoon dried thyme
¼ teaspoon pepper
Dressing
1 tablespoon olive oil
1 tablespoon garlic mayonnaise
1 tablespoon of maple syrup
1-2 garlic cloves finely chopped
1 tablespoon finely chopped fresh parsley
Steps
Cut the chicken into large cubes and/or break up the tofu into large pieces with your fingers. Reserve in a large airtight bag. If you are making chicken and tofu, use different bags.
In a bowl, combine all the marinade ingredients and pour over the chicken and/or tofu. Marinate in the refrigerator for at least an hour, or overnight.
Meanwhile, combine dressing ingredients in medium bowl. Add the cucumber, feta and the rest of the parsley and mix well.
When the chicken/tofu has marinated enough, form skewers and place them on a baking sheet lined with parchment paper. Bake for 15-18 minutes or until the chicken is no longer pink or the tofu is golden brown. Flip the skewers halfway through cooking. Serve over rice with cucumber salad and tzatziki sauce.
Nutrition Facts (per serving)

Chicken and ½ cup rice (depending on whether the recipe is divided into 4 or 6 servings)

Calories: 508-385
Proteins: 41-28.5g
Carbohydrates: 34-32g
Lipids: 23-15g

Tofu and ½ cup of rice (depending on whether the recipe is divided into 4 or 6 servings)

Calories: 550-410
Protein: 39-27g
Carbohydrates: 39-35g
Lipids: 8-19g
Tips
Dip the skewer sticks before assembling them in water to prevent them from burning.
Avoid wasting the rest of the can of tomato paste by placing it in ice cream containers and freezing it all. Then store the frozen tomato paste cubes in an airtight bag in the freezer so you can easily have a small amount for your next recipe.
If you have leftovers for dinner the next day or if you simply want to vary the recipe, do not hesitate to serve everything in pita breads with salad, tomatoes, pickled turnips or any other condiment of your choice.
©2023 Centre Multisports in Vaudreuil-Dorion
/